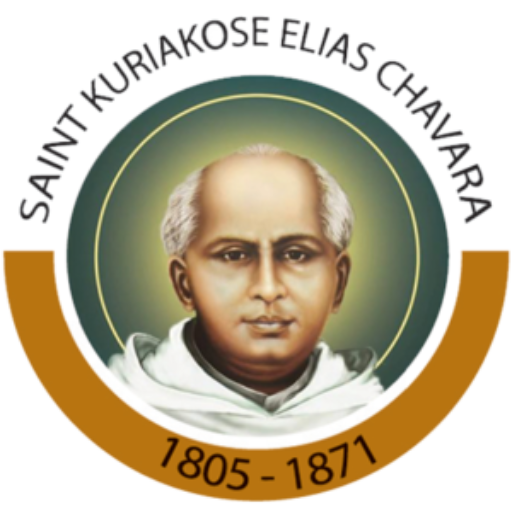 Kuriakose Elias Chavara was the co-founder and first Prior General of the first congregation for men in the Syro-Malabar Catholic Church, now known as the Carmelites of Mary Immaculate [CMI], and of a similar one for women, the Congregation of the Mother of Carmel [CMC]. Blessed Kuriakose Elias Chavara was born on 10 February 1805 to God fearing parents Iko (Kuriakose) Chavara and Mariam Thoppil at Kainakary, near Alappuzha, Kerala.
Inspired by the desire to become a priest, he began his studies under the parish priest of the church of St. Joseph.  At the age of 13 in 1818, he entered the seminary at Pallipuram.  He was ordained priest on 29 November 1829 at Arthunkal and celebrated his First Holy Mass at Chennankari Church.  After the ordination he was engaged for some time in pastoral ministry; however he soon returned to the seminary to teach and also to officiate for the Malpan Thomas Palackal during his absence.  Thus he joined Malpan Thomas Porukara and Malpan Thomas Palackal when they were planning to establish a congregation.
In 1830, he went to Mannanam to direct the construction of the first house of the congregation for which the foundation stone was laid on 11 May 1831. After the death of both the Malpans, Blessed Chavara took up leadership. On 8 December 1855 he started the religious profession along with other 10 companions, under the name "Kuriakose Elias of Holy Family".
He was the Prior General of all the monasteries of the congregation from 1856 till his death in 1871. When in 1861, a schism threatened the Church of Kerala with the arrival of Mar Thomas Rokos without proper credentials from the Pope, Blessed Chavara was appointed the Vicar-General of the Syro-Malabar Church by the Arch-Bishop of Verapolly.
In 1871, on January 3rd, Fr. Kuriakose Elias Chavara, with a painful illness, died at Koonammavu monastery in Kochi, preserving his baptismal innocence. His mortal remains were later transferred from Koonammavu to Mannanam in 1889 and are piously kept in the St. Joseph's Monastery church.
On 8 February 1986, Venerable Chavara was elevated to the position of "Blessed" by Pope John Paul II at Kottayam, Kerala during his visit to India. On 23 November 2014 Kuriakose Elias Chavara was declared a "Saint" by Pope Francis.